Sumbul Ali-Karamali
Thank you for visiting! I'm an author and speaker, and I appreciate your interest in my work. My books, articles, blogs, and speaking events are my way of promoting intercultural understanding in the world. Since I'm a Muslim American and my expertise is in Islamic law, that's largely -- but not solely -- what I write and speak about.

I grew up answering questions about Islam and Muslims, usually because I was the only Muslim my acquaintances knew. (Even though I grew up in a suburb of Los Angeles!) When the questions continued through my years as a corporate lawyer, I realized that books on Islam -- the kind that answered the questions I'd been asked all my life -- were nonexistent. So I decided to write one.

When my husband's job took us to London, I earned a law degree (an LLM) in Islamic law from the University of London's School of Oriental and African Studies. Since I already had a degree in English (from Stanford) and an American law degree (from the University of California at Davis), I felt like I finally had the tools to write that book.

My first book, The Muslim Next Door: the Qur'an, the Media, and that Veil Thing, was published in 2008. In it, I addressed the kinds of questions I'd always been asked but which were never answered in the media or even classrooms. While on my book tour, several teachers complained to me of the absence of age-appropriate books on Islam for middle-school and high-school students. As a result, I wrote Growing up Muslim: Understanding the Beliefs and Practices of Islam (Delacorte/Random House 2012), a nonfiction chapter book for ages 10 & up.(But really, it's good for adults, too.)

My newest book, Demystifying Shariah, was released in August 2020! It's an engaging, relatable, and thought-provoking discussion of shariah.

Aside from writing and speaking, I've been a fiction and nonfiction judge, a reviewer for a university press, a board member of nonprofits dedicated to multicultural education, and a member of both the steering committee of Women in Islamic Spirituality and Equality (WISE) and the Muslim Women's Global Shura Council, both of which aim to promote women's rights and human rights from an Islamic perspective.
I love opera, white-water rafting, reading fantasy literature (Terry Pratchett is a favorite), and watching Star Trek reruns with my family. I'm a staunch advocate of the Oxford comma. And I make a particularly good bean pie (recipe in my second book).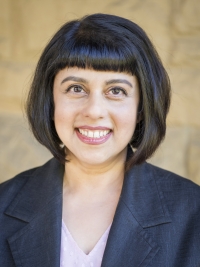 Photo credits for portraits and Muslim Next Door cover: Evan Winslow Smith, www.evanwinslowsmith.com