Demystifying Shari'ah: What It Is, How It Works, and Why It's Not Taking Over Our Country
Published by Beacon Press




"With clarity and wit, [Ali-Karamali] describes shariah's origins, central texts, methodologies, and schools of thought, exploring something that was never a code of law, but rather a system of interpretation designed to evolve and be flexible....remarkably nuanced and thought-provoking."
-- Publishers Weekly, starred review.

"Taking something as complex as the Sharia and exploring it succinctly, lucidly, and without
oversimplification is where this book excels. Well-suited—and highly recommended—for
general readers (both Muslim and non-Muslim)" -- Booklist, starred review

"Highly recommended" -- Library Journal, starred review.

"An engaging, elegant, and accessible book" -- Reza Aslan, author of God: a Human History

"Ali-Karamali expertly clears away the ideological cobwebs, lays out the facts about Shariah and Muslim practice, and manages to make it all a page-turner. --Juan Cole, Professor of History, University of Michigan


I'm delighted to announce the release of Demystifying Shariah! And I'm utterly thrilled at the starred reviews it has garnered. Although this can be perceived as a serious and complicated subject, I've written about it with a light touch, speaking directly and clearly to my readers to clear up confusion and misunderstandings about shariah.

What is shariah? If it were as draconian and oppressive as the Islamophobes insist, then surely 1.7 billion people wouldn't abide by it, right? If it were oppressive of women, then how could thirteen Muslim women have become presidents or prime ministers in recent decades? If shariah condoned violence, then surely Muslims – nearly a quarter of the world's population – would have taken over the world by now.
Demystifying Shariah explains shariah, how it operates in the lives of Muslims, and what it has to do with our Constitution. What does shariah have to do with the way the world looks like today? And why do we all – Muslims or not – need to care?
This is no book of abstract religious law! It's shariah, Islam, and Muslims described by a Muslim American in her real-world context, with compassion, irony, and humor.
August 11, 2020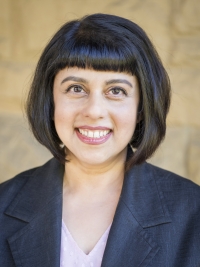 Photo credits for portraits and Muslim Next Door cover: Evan Winslow Smith, www.evanwinslowsmith.com